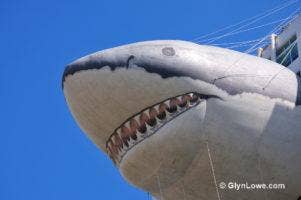 Who Doesn't Love Shark Week?
Ahh, Shark Week. That magical time of the summer when we turn on the TV and suddenly find ourselves second guessing our planned vacations to ocean-adjacent resorts. Despite Discovery Channel's best efforts to use Shark Week for educational purposes, we can't help but tense up watching a video of a Great White shark swimming around an underwater cage literally none of us would ever want to go anywhere near.
Thankfully, there are ways to enjoy a healthy love of sharks and still get wet, without potentially becoming fish food. Experts say the risk of getting attacked by sharks is extremely low, but why chance it when you can have just as much fun on not-very-dry land?
All this week, Tent and Table will be running an epic Shark Week 2019 sale on inflatable water slides and gym mats. Products we are willing to 100 percent guarantee will not spring to life and eat you, or your money back! (Note: this hasn't been run by upper management).
To celebrate this huge sale on inflatable water slides, we thought we'd take a moment to recognize who is, in our humble opinion, the greatest inflatable shark ever created: Chompie the Shark, a promotional monstrosity created by the Discovery Channel to celebrate this very special made for TV holiday.
Chompie the Shark: (Probably) the World's Largest Inflatable Shark!
There isn't actually a record of the world's largest inflatable shark, not one recognized by expert record-keepers anyway. But we're willing to bet Chompie the Shark, created by the Discovery Channel in 2006, is likely the winner.
Chompie is an absolutely massive inflatable, running 446 feet in length. Remember that Jason Statham movie where he fights the huge Megalodon shark? The movie shark was said to be 82 feet in length, while scientists argue a real-life megalodon was likely only 60 feet long. That means Chompie was about 5.4 times longer than the movie's "Meg," and 7.4 times longer than the largest of the real ones.
Meanwhile, Chompie the Shark was 113 feet tall and 200 feet wide. According to the Discovery Channel, a real-life Chompie would weigh a staggering 84,000 pounds. That's enough to leave just about anyone saying "you're gonna need a bigger boat."
He's made from more than 6.65 miles of fabric and 36.7 miles of thread, with nearly a full mile of seat belt webbing. And if you thought your commercial inflatables used a lot of air, get this: Chompie requires ten commercial air blowers running around the clock to keep him inflated, pumping Chompie full of 2,000 cubic feet of air every minute.
The Discovery Channel mounted Chompie the Shark and his five separate pieces onto their Silver Spring, Md. headquarters, where he has sometimes since reappeared in celebration of Shark Week. We don't know if or when Chompie might return, but we'd love to see this puppy—err, giant shark—in person!
Clamp Your Jaws Down on Our Awesome Deals This Week!
We may not have a massive inflatable shark that can swim through a whole building, but we do have exciting commercial inflatable water slides available. And they're pretty huge, too. Maybe not as big as Chompie the Shark, but big enough to keep your party rentals customers as satisfied as they are soaked.
Be sure to check in each day for exciting new sales swimming your way all throughout Shark Week!
Image Credit: Glyn Lowe PhotoWorks(c)