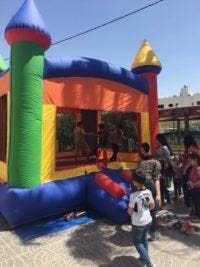 Party Rental History: Who Invented the Bounce House?
We work in a fun industry, don't we? Not many people can say their efforts directly bring joy to people the way we do. I like to think that's the main reason most of us got into this line of work to begin with. So it may come as a surprise to learn that the man who invented the bounce house, John Scurlock, had absolutely no intention whatsoever of entertaining anyone when he stumbled into the first bounce house design back in 1959.
In those days, bounce house inventor Scurlock was an electrical engineer and professor in Shreveport LA. He was experimenting with inflatable tennis court covers that could be rapidly deployed and then deflated and compacted for storage. The idea that children around the globe might love his invention hadn't crossed his mind.
And then it happened. One day, he was watching some of his employees hopping on his inflatable cover. And seeing how much fun they were having was all it took for Scurlock's title to change from "engineering professor" to "bounce house inventor."
The Man Who Invented the Bounce House & His Family
Scurlock's original design was known as the "Space Pillow", and truth be told, it had very little in common with modern bounce houses. Scurlock's Space Pillow didn't have walls or safety netting. It was actually quite dangerous by today's standards, really. But the Space Pillow was the first step toward what would become a massive entertainment industry.
The Scurlocks soon began manufacturing their Space Pillows in a horse pad factory in New Orleans. But it was John Scurlock's wife Frances who created the world's first bounce house rental company, Space Walk, in 1968, renting out units for birthday parties and the like. They invented a bounce house called the "Jupiter Jump" in 1974 that featured inflatable columns and safety netting.
The Scurlock family businesses were hugely successful, allowing them to expand into a custom facility in 1976. Their son, Frank Scurlock, took the reigns after his parents retired, and since then the Scurlock family's business has spread out to reach more than 200 communities nationwide.
John and Frances weren't the only members of the Scurlock family to come up with inventions. Their son Frank is credited with the invention of the indoor amusement center in 1986, as well as the first inflatable water slide in 1991. Space Walk went on to invent the world's first inflatable photo booth in 2012, too.
The Bounce House has Come a Long Way
It was likely impossible for even a prolific inventor like John Scurlock to know back in 1959 that he was on the cusp of creating a whole new industry. Who could've predicted he'd invent something that would become so woven into the fabric of the American experience? To see his employees having fun with his device and to have the vision necessary to transform that circumstance into a global industry is a talent not many people have.
Today, commercial inflatables like the bounce houses and inflatable water slides originally invented by the Scurlock family are wildly more advanced than those original Space Pillows from the 1950's and 1960's. But those humble beginnings sparked this excellent industry we've all come to know and love today, and for that, we all owe the Scurlock family a hearty thanks.
What does the future hold for commercial inflatables? Does the Scurlock family have any more tricks up their collective sleeves? Or will some other inflatable rental company or manufacturer come up with the industry's next big thing?
Today there are inflatable slides and slip n' slides, obstacle courses, sealed air frame games, and too many varieties of bouncy houses to count, all made from a huge assortment of textile and plastic materials. And all of that started with a simple inflatable cover for tennis courts back in the 1950's. It's pretty amazing when you stop the think about it, isn't it?