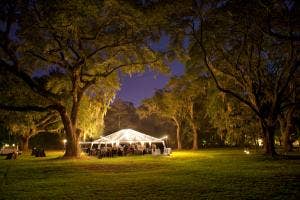 Navigating the Party Tent Catalog
One of the most common questions we hear from customers new to our industry relates to party tents. Specifically, all of the different types and styles of party tent on the market. What's the difference between a pole tent and a frame tent? What's a pop up tent and what's a star tent? Does it really matter what style of tent you choose?
Each style of party tent has its own strengths and weaknesses. Different types of events, and different types of party rental companies as well for that matter, will make use of party tents their own ways. A pop up canopy tent will work best for one type of event, and a high peak frame tent will be useful for another. And the size and operational style of your company might make better use of one over another as well.
To really appreciate which type of party tent best suits your needs, you first need to know the differences between these varying party tent styles. So let's do that now, shall we?
Pole Tent
Tried and true, the pole tent is the most traditional form of party tent on the market today. So traditional, in fact, that it dates all the way back to antiquity. You'll find examples of pole tents going as far back in history as the Iron Age.
Pole tents use a simple tension method, with outward pressure pulling the tent poles into standing position, to stay standing. Ropes are staked into the ground to anchor the poles in place. Center poles are set up in the middle areas of the tent, raising the canopy so it's taut. 
Pole tents are easy to set up, so long as they're anchored correctly. It should be noted however that in most cases, you won't be able to stake a pole tent onto concrete or asphalt, which does limit their usability. You'll need heavy duty stake drivers and permission from the property owner to stake your pole tent on those types of surfaces.
Pole Tent Pros
Traditional aesthetics

Easy to set up; can be raised by just two or three people

Relatively lower cost than a frame tent or high peak tent
Pole Tent Cons
Center poles limit interior space

Special considerations required for staking on concrete, asphalt, etc.

Ropes and stakes increase the overall footprint of the tent and restrict close quarters movement near the tent
Uses
Great for shorter-term setups where lots of tent space is required. Ideal for parties, reunions, weddings, fairs/festivals, and trade shows.
Frame Tent
Pole tents aren't always altogether practical. There are times when you want to set up your party tent on harder surfaces. And center poles can leave you feeling frustrated while trying to plan out how you'll use the party tent's interior space.
Enter the frame tent, a design utilizing a rigid tent frame for structural support rather than needing ropes and stakes to anchor the tent by way of physical pressure. The tent poles aren't just free-floating and supported by weight. They instead combine to form a larger chassis upon which the canopy is mounted.
Frame tents are more versatile than pole tents. They can be set up pretty much anywhere, with rope-free base plates anchored by stakes or simply with sand bags or water bags keeping them held down. That anchoring isn't to keep the tent's shape, either. It's just to prevent the wind from running off with your investment.
The biggest drawback of frame tents is that they're significantly more difficult to set up compared with pole tents. Their rigid frames need to be lifted off the ground and set atop the poles, requiring more people to set them up. They tend to involve more parts and are generally heavier and more difficult to move around, too.
Frame Tent Pros
Minimal non-limiting, non-destructive anchoring

Can be used just about anywhere and anchored less aggressively

No center poles limiting your interior space
Frame Tent Cons
More people needed to set up

Heavier, with more components to keep track of

More expensive than a pole tent
Uses
Best for long-term setups where a large canopy tent is required. Great for fairs and festivals, weddings, and other outdoor events.
Pop Up Tent
A pop up tent is a smaller-scale frame tent designed to be easily set up and torn down. The idea is that one or two people can "pop up" the tent in a hurry wherever they need to and then tear it down in a jiffy when it's time to leave.
The pop up canopy tent features a design very similar to that of a frame tent. The canopy is mounted on an accordion frame that expands outward during setup and then retracts back down to a small profile when it's time for tear down. They require little or no additional parts and can be setup without lugging around a toolbox.
Pop up tents are often referred to as pop up canopy tents to differentiate them from pop up camping tents, which are entirely different. Not that you couldn't bring a pop up tent on a camping trip, of course, given how small they are and how they're designed for easy, rapid deployment.
Pop Up Tent Pros
The easiest type of tent to set up and tear down; can be set up in minutes

Lightweight with a convenient form factor

Versatile; works for nearly any type of event

Low cost
Pop Up Tent Cons
Not designed to be left up for long periods

Considerably smaller than other types of tents

Durable, but not as much as other tent types
Uses
Perfect for short term events where setup should be easy. Ideal for trade shows, craft shows, and fairs. Can be used at almost any type of event, including weddings, when and where applicable.
High Peak Frame Tent
A frame tent is attractive, but it does lack the sort of traditional stature you can only really get from a pole tent. And that's where the high peak tent comes into play. A high peak frame tent, or "HPF," combines the functionality of a frame tent with the traditional raised peak of a pole tent.
But hang on a second … a big part of a frame tent's appeal is that it doesn't need center poles. Well, neither does the high peak tent! Instead of a cumbersome center pole, the high peak tent uses an elevated center mast suspended over tightened cross cables. This means you get a pole tent's attractive center peaks, but in a form factor more aligned with that of a frame tent.
The pros and cons of a high peak frame tent are generally the same as a regular frame tent. Setting one up is roughly the same as setting up a frame tent, only it requires a few extra steps to raise the center mast. 
High Peak Frame Tent Pros
Same pros as a frame tent, but also …

More aesthetically appealing
High Peak Frame Tent Cons
More difficult to set up than a frame tent
Uses
Perfect for weddings, graduation parties, corporate events, and other upscale or upper-tier functions. Can be used in nearly any type of event, including fairs, trade shows, etc.
Star Pole Tent
A pole tent, a frame tent, and a high peak frame tent all have their own best uses. But these tents are largely designed to complement the aesthetic of an event, rather than being the center of attention. The star pole tent? That's a horse of a different color (well, a horse that comes in lots of different colors, we should say).
Star pole tents consist of a center pole with the canopy positioned atop it. The canopy itself then anchors to the ground at five points, with carved out entrance points between those points. This creates a visually stunning canopy tent that draws more attention than any of the party tent style on this list.
Despite their unique shape, star pole tents still accommodate bigger events, with plenty of functional internal space for tables, chairs, or standing guests. Their biggest drawbacks however are their large footprint, their setup difficulty, and the fact that they may grab your eye a little too much for some events.
Star Pole Tent Pros
Visually stunning; really draws the eye

Very stable due to its design

Plenty of internal space, despite peculiar shape

Arch entrances large enough to park cars inside (yes, really!)
Star Pole Tent Cons
More difficult to set up than standard pole tents

Center pole limits internal layout options

Special considerations for staking on asphalt/concrete

Large footprint compared to usable internal space
Uses
Perfect for marketing events, and works great for trade shows. Can be used as advertising waypoints, carports, shopping tents, and more.
Which Tent Style Works Best for My Next Event?
With so many different party tent styles to choose from, finding the perfect one for your needs might feel at times like a daunting uphill battle. But if this is your first ever commercial party tent, we'll make a simple suggestion: get what's best for you, and don't worry about your future event bookings until you start actually booking them.
If you're working alone, we recommend getting a pop up tent and starting there. If you have some family or friends helping you out, a pole tent or maybe even a frame tent will work great. It really boils down to who you're working with, what types of events you want the tent for, and what you can reasonably afford.
It would be unfair to claim one style of tent is better than any other. That simply isn't true. They're all good for the types of events they're best for, and each is applicable to almost any sort of event. You can make a star pole tent work at a wedding or a high peak frame tent work at a trade show. Ultimately it comes down to how and where you're deploying each tent, how you make use of their internal space, and how you decorate their exterior areas as well.
Whether you settle on a pole tent, a frame tent, a pop up tent, or something else, you'll ultimately discover that party tents are, as a rule, extremely versatile. There aren't many limitations on how you use them. It might be cliche to say, but the only real limitation is your own creativity. 
You can confidently get whatever tent suits you best, really. You can make it work at any type of event. And if you need help picking one out, or if you have any questions about the different tent styles, a genuine party tent expert is just a phone call away at 1-716-832-8368.