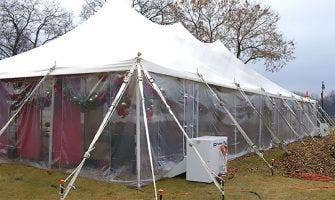 Wondering How to Heat a Party Tent in Winter? It's Easy!
Our company hails from Buffalo, New York. We're situated between two Great Lakes—Ontario and Erie—which means we're often hit with lake effect snow. That's one of the things Buffalo is known for around the globe, really. The breathtaking Niagara Falls, our legendary chicken wings, and our not-always-desirable weather. So it's probably safe to say we know how to heat a party tent, you know?
Heating a party tent in cooler weather is actually pretty simple. All you need is an energy efficient outdoor heater, a cost effective diffuser (if you want one, that is), and some tent sidewalls to keep the warm air inside. You'll also need fuel for the heater, of course.
Using an Outdoor Heater
In order to heat a party tent, you'll first need to acquire an outdoor heater. Heaters run on a variety of fuels, the most popular of which is propane. The outdoor heaters we sell at Tent and Table are extremely fuel efficient, easy to use, and commercial grade, allowing them to function at high capacity for extended periods of time without refueling.
Simply park your outdoor heater inside the tent and follow its instructions for operation. The heater will warm up the interior of the tent pretty quickly. This is by far the easiest method of warming up a party tent.
Adding Diffusers Into the Mix
What if you want to warm up your party tent, without gobbling up valuable interior space? A huge outdoor heater does eat up some of your ever-valuable real estate. But you can easily set up the heater outside of the tent, too. And this is where a diffuser comes in handy.
Diffusers are sort of like the heating ducts you'll find in your home. They bring air from a remote heater to a local area. But instead of running from your heater in your basement, a diffuser is connected to the outdoor heater you're setting up alongside your party tent, allowing you to heat a party tent efficiently without losing functional interior space.
Diffusers are tucked in beneath the tent sidewall, allowing the heater to stay outside while the heat is pumped inside. You could also use a distribution duct, connected between the heater and the diffuser, to provide more distance between your heater and your tent sidewalls.
Diffusers allow for party tent heating without needing all of the space you'd use up if you parked your outdoor heater inside. Their small profile and their setup under the sidewall keep them out of sight, out of mind, and away from impacting your interior space budget.
Heating Up a Party Tent Interior has Never Been Easier
Our professional, commercial grade outdoor heater units are fantastic additions to your party rental arsenal. They allow you to book cool and cold weather events. They're great to use inside warehouses and garages. You may even find yourself taking your unit home with you for personal use. They're not just profitable, but also practical.
Give us a call today at 1-716-832-8368 and we'll be happy to help you figure out how to heat a party tent with Tent and Table's impressive catalog of outdoor heaters. We'll surely help you find the right solution for your applications!
Related Content You Might Like
Keeping Heavy Duty Party Tents Out of Extreme Cold
Are Tent Heaters Safe? Using a Party Tent Heater Safely
Commercial Tent Cleaning: How to Clean a Party Tent
How to Remove Rust from a Party Tent's Fabric and Metal