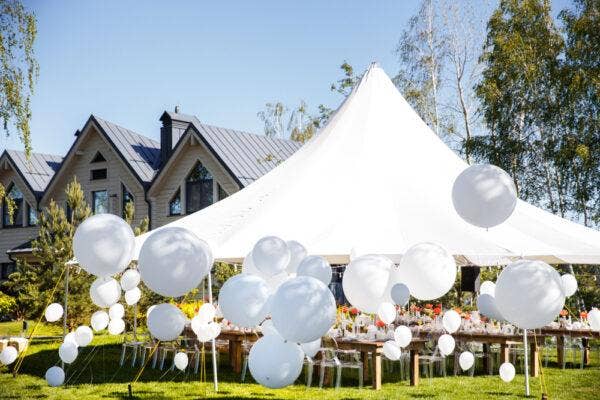 How Much is it to Rent a Party Tent? Am I Better Off Buying One?
Whether you're keeping a cake and gifts out of the sun at a birthday party or seating guests for the grand feast at a lavish wedding, party tents are an essential item for any outdoor affair. But just how much is it to rent a party tent? How much is it to rent a tent for a wedding? What should you know about party tent rentals before booking one?
Party tent rentals can be a convenience, a life-saver, or anything in between. You shouldn't be planning an outdoor special event without one, really. They protect you and your guests from the elements. You can heat party tents in winter and safeguard against snow, cold, and rain. And they carry with them a certain upper class aesthetic that helps make even a simple birthday party all the more memorable.
Related: How to Heat a Party Tent in Winter
That sales pitch is enough to make most people realize they want to rent one … until they find out how much it costs to rent a party tent, that is. A party tent can cost anywhere from $100 for small 10x10 pop up tents to upwards of $20,000 or even more for massive festival-sized tents.
On average, a 20x20 party tent rental can cost around $200 to $500, while your standard 20x40 party tent should cost between $300 and $750 per day, depending on how it's ordered. Things like tent sidewalls, rain gutters, tent lighting, and other features can drive up the price, though they do improve the overall effectiveness of your party tent rental and help it stave off wind and undesirable weather.
Prices will vary from one location to the next, as will the availability of party tent rentals and your options for them. But you can generally expect to spend between $200 and $400 for smaller events, and more, of course, for bigger ones.
Finding the Right Party Tent for Your Event
When considering a party tent or a wedding tent, it's important to look at the square footage of that tent. As a general rule, you'll want 10 square feet per person attending the event. Center poles can impact how much functional space you've got to work with inside a pole tent, so try to take that into consideration as well. Pole tents are anchored by guy ropes staked into the ground, too, which impacts nearby pathways.
If you're expecting 20 guests, you'll want a 10x20 party tent (200 square feet; 20 guests) or a 20x20 party tent (400 square feet; 40 guests), allowing some additional space for maneuverability and decorating options. 
Related: What Size Party Tent do I Need?
Next, you'll want to choose a style of tent that suits your event. We have an article that better explains all the different tent styles and lists their pros and cons. We suggest giving that a read. But in the simplest of terms:
Pop up tents are easy to set up, but they're small and not suited for larger crowds

Pole tents are attractive but limited in where they can be set up

Frame tents can be set up anywhere, but they require more people to set up and are generally more expensive

High peak frame tents (aka "high peak tents") are gorgeous, but they're difficult to set up. They're ideal wedding tents
Related: Pole Tents vs. Frame Tents: a Quick Guide to Types of Tents
Buying a Party Tent vs. Party Tent Rentals
Party tents are quite expensive to rent. And if you've perused our website here, you might be wondering if it makes more sense to find party tents for sale and buy one, versus dishing up money for party tent rentals and using them short-term. It becomes an especially attractive idea for anyone looking at renting tents for multiple days. At some point, it becomes cheaper to just buy the tent and do it all yourself, right? 
Well, yes and no.
There's a reason tents are so expensive to rent … they take a lot of manpower to set up. Some frame tents require whole teams of seven or eight people to raise. It's physically demanding work—it can be downright grueling in some conditions—and time consuming. They're large and heavy, too; you can't just put a commercial party tent in the trunk of your car. 
Rental companies usually own several party tents of various sizes. They'll work with you to help you find the perfect size to suit your needs; if you buy a party tent, you'll only have that one size forever. And they do all of the heavy lifting, literally and figuratively, and set up your tent for you. Party tent rentals have a great many perks that more than compensate for the costs.
Having said all of that, some of you genuinely do want and need a party tent of your own, and Tent and Table will be more than happy to help you find a heavy duty party tent that checks every box for you. If you've got the storage space, the manpower, and the repetitive need for a party tent of your own, we're always happy to help. We just want you to make sure a full scale commercial party tent is what you really need. We recommend looking at our Weekender line of pole tents and frame tents for most consumer applications.
Now that you know how much it is to rent a party tent, versus buying a party tent for sale, we're hoping you can find a solution that best suits your needs. And if you have any questions about owning party tents versus party tent rentals, drop a comment below or give us a call at 1-716-832-8368 and we'll help you out!
A Few Other Blogs You May Want to Read
Commercial Tent Cleaning: How to Clean a Party Tent
Top Ten Party Tent Accessories Every Pro Should Have
How Much Does a Bounce House Cost to Buy? What's the Real Cost?