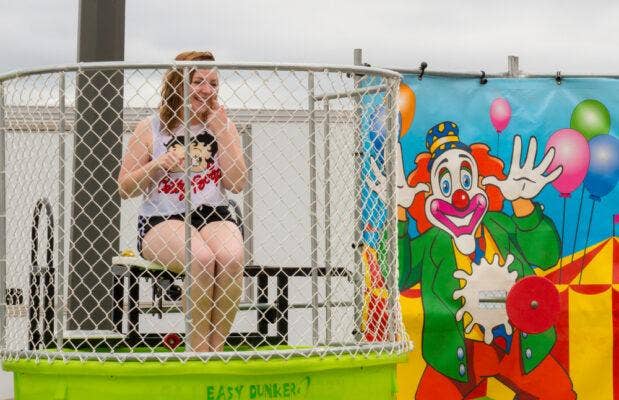 How Much Is a Dunk Tank? Are They Expensive?
How much is a dunk tank? Are they expensive? And just how profitable are dunk tanks, for that matter?
Personally, my first hands-on encounter with a dunk tank was on vacation with my family in Atlantic City as a kid. I was maybe ten or eleven years old, walking down the world's most famous boardwalk, when I heard a man hurling insults toward the crowd. Things you can't get away with saying these days. And as my family got closer, the man's taunts turned toward yours truly.
"Check out this skinny dweeb! Yeah, you!" It was obvious this guy was talking directly to me. My Mom urged me to keep walking, but I was drawn in. "Nah, you couldn't get the job done. Not with those scrawny little arms."
I didn't even have to say a word to my parents. My Dad looked at the heckler, then looked at me, and he knew. Out came the wallet. The dunk tank heckler's assistant handed me three oversized orange balls while the heckler himself kept ribbing me, trying to distract me. But I was on a mission to shut this jerk up.
My first attempt was a solid miss, and the heckler bellowed, loudly urging the other passersby to join in the revelry of embarrassing me. The second shot, though? That one shut him up. He was cut off mid-sentence, splashing into the water. 
The stuffed animal I won went to my kid sister, but his silence? That was all mine.
That's when I learned how insanely fun dunk tanks can be. They're challenging. They're rewarding. And they can be quite profitable for rental operators, fundraiser organizers, and others too.
How Much Does a Dunk Tank Cost?
Okay, let's get down to business. Just how much is a dunk tank? And how much does a dunk tank really cost, when you factor in long-term maintenance?
Buying a brand new dunk tank will cost you around $4,000, or sometimes less if you happen to catch it on sale. That includes everything you need to set up and use your new dunk tank, including a 500 gallon tank, a cage, the seat, balls, and targets. 
Like commercial inflatables, dunk tanks have two popular revenue streams. You can rent them out for parties and events, or you can set them up yourself and watch them earn for you throughout carnivals, festivals, and other events.
That first revenue option is just like anything else in the event and party rental world; depending on how you price out your rentals, you can earn back your investment in around ten rentals or so.
What about the latter option? Like other carnival games and inflatable games, dunk tanks can generate revenue from individual players as well. And as we illustrated earlier, it helps to have someone charismatic sitting in your dunk tank "encouraging" people to have a go.
Dunk tanks are affordable, profitable, and a whole lot of fun for everyone involved. Give TNT a call today at 1-716-832-8368 and we'll gladly help you find the perfect dunk tank for your event and party -company!
Read More Great Content from TNT!
School Fundraising Essentials for Rental Professionals
How to Start a Bounce House Business - Essential Reading and Guides
How to Clean a Portable Dance Floor (It's Super Easy!)
30 New Year's Resolutions for Your Event and Party Rental Company
How to Make a Tarp Last Longer: Six Practical Tarp Care Tips