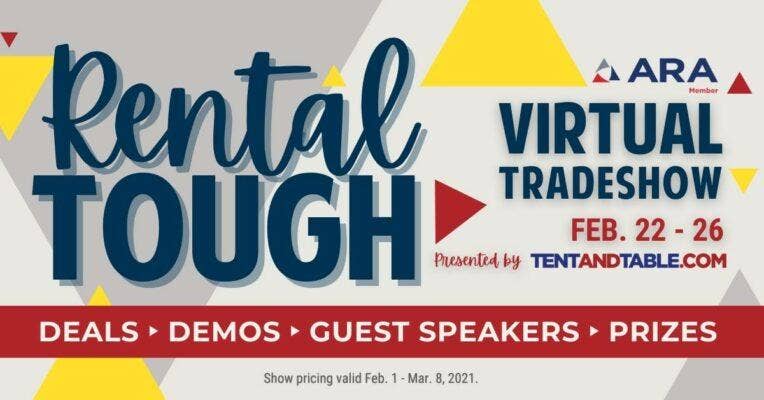 Here's Our List of Speakers for the 2021 Rental Tough Trade Show from TNT
The 2021 Rental Tough Trade Show, presented by Tent and Table, is all set to kick off next week. And we've got some really great guest speakers doing presentations you won't want to miss. It's all free, too; all you need to attend is a free Facebook account!
Our speakers will dish up useful information that can help rental operators improve their businesses across the board. They'll cover everything from marketing to financing to managing equipment, too. You simply don't want to miss these free presentations.
Let's go over the speaker schedule and show you what to expect from the 2021 Rental Tough Trade Show presented by TNT!
Monday 2/22
The festivities kick off at 10 AM with a presentation from Harry Schneider of Allied Financial Solutions. Harry will be talking about party rental equipment financing and will answer your questions on this vital topic. You definitely don't want to miss it!
If your event and party rental company works with party tents, tent sidewalls are an absolute necessity. So at 2 PM, TNT's Mark Slater will discuss party tent sidewalls with the community and show you how immensely valuable these accessories are.
Monday wraps up with a special late afternoon kickoff Q&A event at 5 PM with Mark Slater, Brett Begley, and the Tent and Table team. Come ask us whatever is on your mind!
Tuesday 2/23
Tuesday's events start at 11 AM with a presentation from TNT's Kim Latko, where she'll talk about assessing staff performance using a scorecard system that's simple (and free!) to implement. If your company has even a single employee, you'll find this presentation highly valuable.
At 1 PM, Mark Slater returns to cover a topic that's unmistakably critical in the midst of a global health pandemic: cleaning and sanitizing equipment. Even before COVID, event and party rental companies could be run out of town with a reputation for having dirty equipment. And properly cleaning and drying equipment improves longevity, too. Definitely attend this one!
Tuesday's final presentation at 2:30 PM will be all about digital content, presented by yours truly. Join me as we talk about writing highly effective digital content. I hope to see you there!
Wednesday 2/24
We all know how important insurance is for any small business, and that's especially true for event and party rental companies. So at noon on Wednesday, join Alex Cossio to discuss insurance best practices for both rental operators and family entertainment centers (FECs).
Then, at 3 PM, Mark Slater will be back to talk about building up your rental business with ideas for improving profitability and more. Come with lots of questions and tap Mark's extensive knowledge for great business ideas!
Thursday 2/25
Websites are no longer optional in 2021. The value of a high quality website optimized for search engines cannot be understated. So at 10 AM, join SEO expert Mary Owesu for an important discussion on improving your website's potential reach. Mary is incredibly knowledgeable and her presentations are always a lot of fun, so we hope to see you at this one too!
Next, join Mark Slater at 1:30 PM for a presentation on properly using tent stakes. He'll go over driving stakes (manually and using our Thor tent stake drivers), tying ropes, using ratchet straps, and more.
Friday 2/26
Our final day of presentations begins at noon with a presentation from Mark Slater on folding tables and chairs. Whether you're booking birthday parties, corporate expos, carnivals, or weddings, there's always a need for high quality folding tables and party chairs!
Come back at 3:30 PM for a discussion on why your event and party rental company should strongly consider joining the American Rental Association (ARA). There's a very long list of benefits to consider, and we'll explore all of that potential here.
When that's over, stick around through 4 PM for a huge prize giveaway!
TNT has big sales during our 2021 Rental Tough Virtual Trade Show, too. You won't want to miss out on these awesome deals.
We can't wait to see all of you during our big virtual trade show. Be sure to follow TNT on Facebook and visit us for these top notch free events!