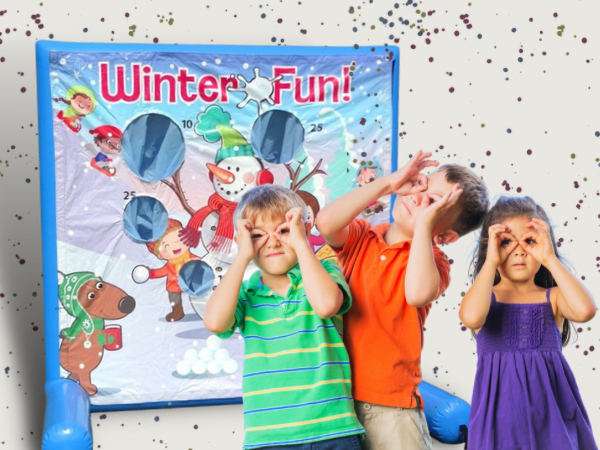 Air Frame Games: Make Any Event Less Lame
Whether it's an inflatable bouncy castle, a slip 'n' slide or the perfect party tent, Tent and Table is here to make for an even better time in the sun. We sell commercial party and event rental equipment, sure, but we really offer so much more than meets the eye.
We support any event's endeavors with both easy set-up and durable structure. We commit to quality products, expertise and customer service – because we know it takes a village to organize an event for a crowd of crazed, demanding first-graders. Or plan a wonderful Christmas party. Or make your event truly impressive. Once that inflatable carnival game is up and running, though, that should help get the situation under control. The possibilities for a fun time are only limited by your imagination.
Easy, Inflatable Carnival Games for Any Occasion
Similar to a classic carnival game, Air Frame Games are a simple way to light up a room and keep a crowd entertained. The difference is that these fun frame games are portable and way more convenient than trying to set up a dunk tank in your backyard or spare room. Create your own competition with any bean bag or soft, squishy ball – six foam balls are already included. Our Air Frame Games are made to last whether indoors or outside, as your complete package comes with 4 anchor hook stakes that secure it to the ground, even if it's windy out. You really can't beat seeing a kid's delight when they finally get the ball into the hole. Inflatable games are a great idea for fundraisers, too. It's easy to quickly set up the game and have players donate for their attempt to hit the targets.
Well-Rounded, Year-Round Party Favors
Regardless if you're renting for a company party or just looking to entertain your extended family, Air Frame Games make for an enduring party favor for indoor or outdoor use. What makes Inflatable Frame Games different from typical inflatables is that they do not require a blower or a constant flow of air to operate. Simply inflate once and you're ready to go for days, which drastically cuts down on the need to be within reach of a power source. You can inflate these games and place them anywhere. Since they require very little space, these units are perfect for facilities that might not have much room for larger audiences, like a small yard or gymnasium. Most importantly, it can be set up in minutes by one person. When your celebration is over, the entire frame breaks down to fit into its own convenient carrying bag.
Great Holiday Gifts (Flexibility & Fun Included)
The fun doesn't stop there. All of our inflatable frame games come with a colorful, rugged canvas in the theme of your choice and a heavy-duty framework. Keep the good times ongoing throughout the holidays and other events that come up by buying additional game panel themes. Need to put something together quickly for a school holiday festival? You can change the panels to match the occasion – go from Halloween to Christmas to an array of other choices. Thanks to the Velcro backing, you can quickly detach and swap out frame game themes with ease. It won't fit in your kid's stocking, per se, but our Winter Fun Sealed Air Inflatable Frame Game definitely makes for a fitting gift! Watch your child's face light up with joy in the wintertime with an engaging present that is sure to make lasting memories.
Mix & Match Everyone's Style
If you want to appeal to a different child's taste, we have a variety of options customize your game. Our Sealed Air Frame Game Replacement Panels are designed to keep everyone's different styles in mind. Even better, the air frame's double-sided frame allows two different games to happen at the same time. That's two different themes for one office Christmas party. For instance, one group can pelt "snowballs" at the Winter Fun's snowman design, while the other side racks up points using a decorative Christmas tree design. If you're not feeling the holiday spirit, football fans can compete using the Football Air Frame Game Panel. Maybe some of your guests like to practice getting nothing but net, while some of them have interests outside of sports, such as animals and nature.
The Evolution of Inflatable Games
At Tent and Table, we took the idea of our ever-popular Sealed Air Frame Games and took it to the next level. Our new-and-improved UltraLite Series of Air Frame Games includes a built-in air blower! All you have to do is set it up, hit the switch and you're ready to accommodate the masses in minutes. Even with the constant air blower built right into it, these inflatables weigh in at just under 50 pounds, making it manageable to move around.
Whether your party guests hit or miss their target, the innovative inclined plane works as a ball return, setting them up for their next shot without missing a beat. For animal-lovers, the Backyard Animals Blow-Up Air Frame Inflatable Carnival Game makes for the perfect iteration of the UltraLite Air Frame Game. After a while, if you're looking for a similar design, the Angry Owls UltraLite Air Frame Game Panel is sure to be a hoot! It's like Angry Birds, but better, since you're not just stuck staring at a screen all day (thanks, global pandemic).