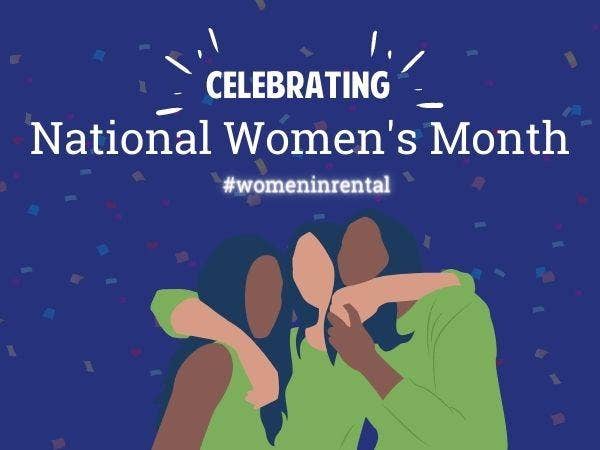 For Women's History Month, Tent and Table is highlighting some of the incredible women in our industry and their experience running their own event rental businesses. We reached out to four female-owned businesses: Megan Yakas, owner of EVAH Party Rentals, Halley Beam, owner of PartyWorksRentals, Mariana Ambriz, owner of Yincolines, and Curry Ashley, owner of All About that Bounce Inflatables. Read more about their phenomenal experience and knowledge!
Q: What does being a business owner mean to you? Why did you become an entrepreneur in the first place?
Megan: It all started when I was searching for a way to combat the cost of daycare and to stay home for my children more. Once I began, it formed into something more. I realized I had become a role model in my community and a point of hope for those who may not think they could do something similar. If I could start my own business, others could clearly do it too!
Halley: I started my company in 2019 after a bad experience renting an obstacle course for my oldest son. The first company was a no-show, and the second wasn't prepared and my husband had to help them set up. I decided I could make it better. Starting my company has offered many more benefits than I expected. I was a stay-at-home mom to my four boys for 12 years, and my husband was working 50+ hours a week to support us. Because of this, we rarely saw him. After 14 short months in business, my husband was able to quit his job and come work for me full-time. We are now both home during the day and able to spend time with our kids, go on field trips, take spontaneous vacations, and live life the way we want with our children.
Mariana: The best part of being an owner is working with my kids as a family, teaching them to work for what they want, and teaching them to be respectful with customers. I started 10 years ago…and I bought my first bounce house (Brave Knight Castle!) from Tent and Table. It was the best investment I ever had. I went to every garage sale to give people my cell phone number on a piece of paper. At the time, I didn't speak English, so it was a big challenge for me. Customers started texting me in English, so I had to use Google translate! I own 30 units now and have improved my English!
Curry: Being a business owner allows me to provide financial security for my children. I decided to go into this field specifically because it seemed like I always had trouble finding bounce houses in my area. My mom actually made the suggestion, and I prayed about it for years before acting on it and realizing this is what I want to do. It's additional income while doing something I enjoy that involves making children happy.
Q: Does being a woman in this industry give you a unique perspective?
Megan: I think that as women, we can understand more of what the "moms" of the booking world are looking for. I think when we work directly with women, those women tend to appreciate someone who understands what they are going through and their event needs from the same view point.
Halley: I believe it does. Being a woman and a mother, we know how important each and every birthday, christening, graduation and all the other events are for our children and us. This allows us to truly know where the customer is coming from and find out exactly what they are picturing and make it a reality for them. It also puts our customers at ease knowing that we understand and take the time to help them plan everything to ensure a flawless party.
Mariana: Being a woman in this industry makes me feel strong because my customers always expect a man! You learn that this job has no gender - any man or woman can do it.
Curry: Being a woman in this industry has definitely given me a unique perspective. It has shown me that I am much stronger physically and mentally than I ever gave myself credit for.
Q: What or who has been your greatest influence in business and why?
Megan: Having to provide for my children was my greatest motivation. I knew I couldn't fail every time I thought about them and how proud they were of me. If they were to see my ambitions fail, how could they expect more out of life and learn to chase their own ambitions?
Mariana: I didn't have any influence when I started, I had no idea what it was to be an owner of a bounce house company. My only motivation was and still is my kids!
Curry: Being a part of so many different positive groups of people with the same goal has been my greatest influence in this industry. I don't feel like I'm in competition with anyone but that everyone is pushing for everyone to be successful. The support in the groups gives me hope when I doubt myself sometimes.
Q: What would you say is your greatest accomplishment to date with your event rental company?
Megan: Honestly, what greater accomplishment is there being a 100% woman-owned business, especially in an industry that is predominantly male, or 50% woman-owned.
Halley: There are so many. When I first started Party Works Rentals, I honestly thought it was just going to be a little extra money I could earn while being home with the kids and I could take them on vacation. I quickly saw the potential earnings and pushed even harder. I am now the largest legally operating inflatable rental company in my county, and I am so blessed to be able to still spend as much time as possible at home with my kids while having a great income that allows us the freedom to do new things.
Mariana: My kids and I became homeless for eight months 6 years ago. That day I decided to work hard to change our lives. I bought my five-bedroom house in 2020, and now I own 30 inflatables, a foam machine, concessions, tables, chairs and tents.
Curry: My greatest accomplishment to date is the fact that I'm still able to book consistently. When discussing your goals with others, I've found that some people are all in until it's time to put in the work. I started with nearly 15 individuals who were all in until they realized the work that goes in. I became discouraged at times but I realized that everyone isn't built the same. I'm learning the true meaning of quality over quantity because the two individuals that help me have been nothing short of amazing and I'm thankful for them.
Q: What's the best piece of advice you received in this industry that you wish to pass on?
Megan: We are all in this together! Small companies pop up all the time. It is better to be friends with industry professionals rather than enemies. You might even end up helping each other out or building a working relationship. There are plenty of parties out there for all of us!
Halley: There is way too much to list. There are the obvious things like not everyone is your customer, keep raising your prices, operate legally, always have exceptional customer service and an easy-to-use website. Honestly the thing that stuck the most was a quote someone posted in a Facebook group. "Entrepreneurship is living a few years of your life like most people won't so you can spend the rest of your life like most people can't." This really hit home for me and gave me the motivation to keep pushing through the heavy lifting and long days knowing that it does pay off.
Mariana: Post my business in Facebook groups more!
Curry: The best advice I received in this industry is to not cut corners. What you think may save you a few dollars now can end up costing a whole lot more in the long run. I have an amazing mentor Jana Thompson (not officially) who has been a blessing in every area of my business, from start up to insurance coverage and everything in between.
Q: What one thing have you learned as a small business owner that has served you well over the years?
Megan: It is important to stay humble. Many people do not realize what business owners go through, so it is important to stay humble and not let our emotions affect our customer service or business.
Halley: You are responsible for EVERYTHING. Even things you can't control are still your fault, so you need to plan ahead and always have a backup. Things go wrong, inflatables get damaged, weather sucks, and anything can happen, but if you plan ahead you can typically overcome all of them. Also, your success depends completely on you. If you own the company, there is no one else to blame when things don't work. You need to be constantly reevaluating your decisions and see if they are still working for you.
Mariana: Don't look at other companies like competitors. God blesses all of us if you respect everyone else!
Q: Are there any resources that have helped your rental business that you'd like to share with others?
Megan: It is very important that you do things right! In the party rental world, any legitimate, long-standing business has the proper insurance and follows their state mandates for the items they offer.
Halley: Get booking software ASAP. I can not tell you how many people book in the middle of the night or really anytime without calling. I went from always on the phone answering simple questions to being able to actually focus on running the business. Plus from a customer side, no one likes to make phone calls anymore. The easier you make it for them to book, the more likely they will. A great website really makes a huge difference.
Mariana: Wake up early and market on every social media platform. Be respectful. Enjoy your job and help everyone any time you can.
Curry: Inflatable Office and Event Hawk have been my primary resources.
Q: Do you have any new projects coming up (or have you just completed a big project ~ reached a milestone, etc.)? If so, please tell us about it.
Megan: We are reaching a milestone next month and hopefully moving all of our equipment to a warehouse. Warehouse space is not always needed in our industry, but this move will give us more room for equipment as well as the space to maneuver our vehicles and clean items.
Halley: We are in the process of purchasing land and building a warehouse that will hopefully be completed next spring. We are so excited. Right now everything is done from our home which thankfully has land, but this will make everything so much easier. It will also allow us to expand even further with more inflatables and also start offering tents, tables and chairs. Maybe even a mechanical bull if I can talk my husband into it!
Curry: No milestones yet, but I have added a water slide to my inventory and am super excited about this summer!
Q: What do you do for fun/relaxation when you're not working on your business?
Megan: I definitely try to have fun and make people laugh while working in the party industry. However, it's great to unplug every now and then. Sometimes it is nice to just paint a picture or stretch. Anything that slows down the business of life is a great way to unwind.
Halley: I take little breaks everyday. We have farm animals so I go visit them with the kids, and we really enjoy the time together. My kids love camping so we try to do that as often as we can. Hopefully there will be a tropical vacation in the fall or winter.
Mariana: When the season is over I love to travel with my family.
Curry: When I'm not working on my business, I'm spending time with my family. I am married with 3 beautiful children and there's nothing like seeing them happy. We don't get a lot of time due to conflicting schedules but when we do get it in, we love to bowl or go skating.
Q: What is your #1 business goal you plan to accomplish over the next year with your rental company?
Megan: The number one goal in any business is usually more sales. In return, that also means more work for my employees and more fun for our local communities.
Halley: We bought a lot of equipment at IAAPA this year and we are hiring employees for the first time which is exciting and a little scary. My goal with this is to do about 2.5 times the sales we did last year.
Mariana: Own my warehouse.
Curry: I am a school teacher and would love to be in a position where I can actually have my summers to myself and not have to work a part-time job in order to send the babies to summer camp. I want to spend my summers traveling while someone is running my business.
Q: We have to ask… Favorite Tent and Table product?
Megan: Hands down, Tent and Table's Mega Tropical Waterslide Bounce House Combo is my favorite so far. This item quickly turned into our #1 rented unit the first year we bought it. This was also my first purchase from them and I was pleasantly delighted by their posted safety signs throughout the unit as well as its ability to drain water.
Halley: I have to say my favorite is my 14 x 14 Rainbow Castle Standard Bounce House. This is actually the first bounce house I ever bought, and it is what started me on this journey. It's not my highest producing unit, but it is the one with the most sentimental value for sure.
Mariana: Brave Castle definitely is my baby, because it gave me the opportunity to build my company, and I'll be very grateful all my life for that.
Curry: Eyeing those dollies!
Thank you Megan, Halley, Mariana, and Curry for sharing your experience with us! Owning a small business is not for the faint of heart, and is a rewarding experience for those passionate about it like yourselves. To all our women in the rental industry who are customers, colleagues, and mentors - thank you!