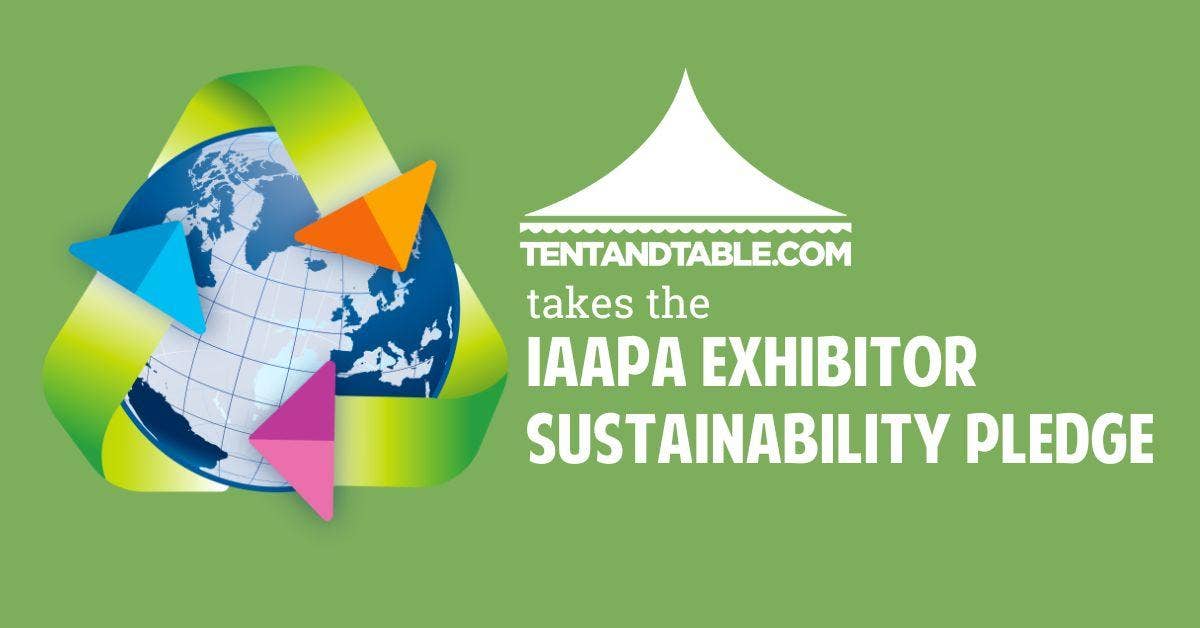 In 2022, sustainability - the goal for humans to safely coexist on the planet for as long as possible - is more important than ever.
Sustainable practices support ecological, human, and ecoconic health and wellness. Sustainability recognizes that Earth's resources are finite and should be treated as such - AKA used conservatively, respectfully, and wisely. The practice of sustainability looks at life on earth through a long-term lens and brings to mind the consequences of the ways in which certain resources are used.
In short, sustainability is about the planet that we're leaving to our children and grandchildren, and both IAAPA and Tent and Table care about it.
IAAPA and Sustainability
At this year's expo, IAAPA made a point to showcase their sustainable efforts whenever it was possible to do so. Here are a list of categories, and some of the sustainable practices that took place within those categories:
IAAPA Show Organizer:
Implemented electronic session handouts.
Sent out digital session surveys.
Trade show floor stories are now digital and being shared on social media, which reduces the need for paper. Reducing the need for paper reduces trucks on the road to deliver printed materials.
Delivery of electronic exhibitor material.
No badge holders are needed for badges.
Lanyards used at the event are collected at the end and used again.
Digital signage replaces paper signage.
Leftover exhibitor products are collected and donated to Give Kids the World.
Orange County Convention Center:
Recycling bins are placed in all meeting and event areas (and bins are made of recycled milk jugs).
They grow vegetables in their Center-to-Table Gardens that are provided to attendees.
The largest municipal rooftop solar array in the Southeast United States.
They developed a plan that integrates national lighting, stormwater management, green spaces, and walkability into every client event that they host.
Unused food (that is not considered waste) is donated to local organizations within the community. Food waste is sent to Harvest Power of Orlando to be converted into electricity and fertilizer.
Freeman (General Services Contractor):
Places to recycle cardboard, paper, and aluminum at the warehouse and show site.
Aisle carpet is cleaned between uses and reused four times on average before it's recycled.
Dark colored carpet, which is easier to recycle, is encouraged.
Freeman Classic dark colored carpets are made of 20-50% recycled content.
Carpet padding is used and reused for as long as possible before it's recycled, along with fabric drape.
Paperless ordering is implemented.
By default, single-use graphics are printed on recyclable substrate.
Aisle signs are printed on recyclable paper
When possible, vinyl banners are repurposed.
Ink with VOCs is not used.
Power down the electronics at night that are practical to power down.
Batteries are always repurposed.
Centerplate (Catering):
Use a 2,000 square foot Center-to-Table Gardens that produces year-round edible produce in an all-natural, climate-controlled, chemical-free environment.
Use aeroponic growing, which uses 9% less water than conventional organic farming, and 90% less space.
Additional products are sourced from vendors that employ local residents, buy local ingredients, and incorporate sustainable practices.
Food scraps are organically recycled during prep, execution, and breakdown of food service events.
Organic waste is sent to Heart of Florida Environmental, where it is converted into nutrient-rich soil.
Works directly with Central Florida-based organizations to help those seeking assistance by donating viable food and beverage products.
PRG (Audio-Visual):
Includes efficient LED automated and conventional lights in their inventory. 
Orlando location means less air and truck transportation. 
Extensive recycling policy that includes general waste, used equipment, scrap lighting metal, audio, visual, and scenic operations, bulbs, and other expendable items.
Tent and Table's Sustainability Pledge
It is the continuous goal of IAAPA to make the annual Expo more sustainable. In order to support this goal, they invited exhibitors to participate in the IAAPA Expo Exhibitor Sustainability Pledge - which Tent and Table was happy to do.
We care about the future of our planet, which is why we pledged to carry out the following sustainable actions:
Regarding energy conservation, we pledged to:
Power down or put all displays, monitors, and lighting to sleep during non-Expo hours.
Walk, take the shuttle bus, or rideshare with our employees to/from the facility on a daily basis.
Regarding booth build and graphics, we pledged to:
Use reused display elements from past events and/or use them at future events.
Use reusable graphics that will be used again at future events.
Avoid polystyrene in booth shipment (AKA packing peanuts, Styrofoam, #6 and foam plastic).
Regarding waste management, we pledged to:
Use cleaning products that are environmentally friendly.
Recycle badge lanyards at the conclusion of the show at registration.
Regarding marketing materials, we pledged to:
Use the lead retrieval system to capture show leads instead of collecting business cards.
Doing Our Part
Tent and Table takes great pride in our sustainable practices, and it was our honor to sign the Exhibitor Sustainability Pledge.