Inflatable Financing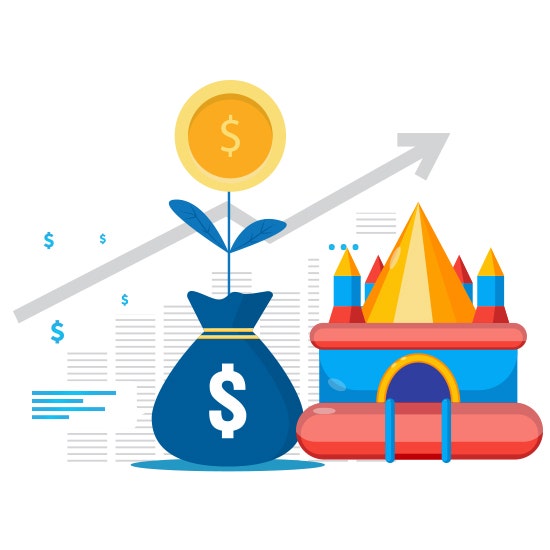 Equipment Financing Companies Worthy of Your Rental Business
An inflatable rental business without commercial inflatables isn't much of a business at all. And equipment financing helps you get your hands on those all-too-important commercial inflatables quickly and easily.
Your party equipment rental company needs a great lineup of commercial inflatables. You need bounce houses, inflatable water slides, sealed air frame games, inflatable obstacle courses, and more. That's your bread and butter. That's the equipment that defines your business and brings customers to your doorstep.
Equipment financing can help your rental business land all of the inflatable equipment you need, from small UltraLite inflatable games to massive 200+ foot inflatable obstacle courses. You can use it for all the miscellany, too; your inflatable stakes, repair kits, hand carts and dollies, etc.
Best of all, your responsible payments on equipment financing will grow your rental company's credit score across the board, making it easier to improve or expand your warehouse space, invest in new vans or trucks, and more.
Tent and Table has partnered with a number of well established and reputable equipment financing companies to provide our customers with a great selection of equipment financing options. We have incredible financing offers from Marlin Equipment Finance, AP Equipment Financing, CIT Equipment Finance, and more! Click below to learn more, or give us a call today at 1-716-832-8368 and let us help you navigate these impressive inflatable equipment financing opportunities!
| Advantages | Finance | Cash |
| --- | --- | --- |
| More money to invest in a larger and better inventory | | |
| No money out of your pocket to startup | | |
| No financial statements required | | |
| Option to own or lease | | |
| Tax deductible | | |
| No interest | | |