Everything You Need to Know about the #1 Canopy Tent
Shop the #1 Commercial Canopy Tents for Sale
Looking for canopy tents? Tent and Table is the #1 distributor of heavy duty, commercial canopy tents for sale. Our canopy tents for sale are made with the highest quality materials and built to last. Whether you're a homeowner, organization or party rental business, we have the styles and sizes of canopy tents to match your needs. Browse our large selection of commercial grade event, party and canopy tents for sale!
Shop our Canopy Tents for Sale:
Questions about our Canopy Tents?
Have questions about our canopy tents? Talk to a Tent and Table event, party and canopy tent specialist today! Give us a call at 1-888-322-5606 or visit our Contact Us page for additional contact methods. We look forward to answering your questions about our canopy tents for sale!
The Perfect Canopy Tents for Sale? You've Just Found Them
It's five in the morning. Your crew needs to set up three canopy tents in the next sixty minutes. And by eight, you need to have them fully loaded with party tables, folding chairs, and lighting.
It's a tall order for some of your competitors, but your event rental company? You guys have this covered. You've got the perfect canopy tents to get the job done right. You've coordinated with the caterers, the decorators, the wedding planners … you know what you have to do. And you've got experience, too. And you know it's only a matter of time before curveballs get hurled your way.
The caterer is now asking you to put up canopy sidewalls to combat wind. The wedding planner is asking if she can make a few last minute changes that involve hanging power cables from a canopy frame in a way you're not entirely comfortable with. And the client—the bride's mother—is asking if the 20x20 canopy tent she rented for part of the reception is actually 20x20. She eyeballed it, and she thinks its smaller than advertised.
You're juggling your hard hat, your customer service hat, and your management hat. But you know what? You're not stressing it. You've had far worse bookings. Harder gigs with worse clientele. And it's easy to deal with all of these things at once when you're confident in your equipment.
You know your heavy duty canopy tents are trustworthy. You know you can rely on their commercial quality. If something goes wrong today, your canopy tents won't be the culprit. When you go looking for canopy tents for sale, you know Tent and Table has great prices, reliable products, and unparalleled customer service. We've got you covered, so you can have your customer's covered.
The Best Canopy Tent is the One You Don't Worry About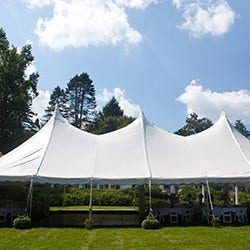 When you're looking to find canopy tents for sale, Tent and Table has an unrivaled selection developed from top to bottom to reflect the needs of party rental and event rental professionals.
We build these heavy duty commercial grade canopy tents knowing the abuse they'll need to withstand. We know the rigors canopy tents need to endure, and we design our products to hold up to those challenges.
We're not making pretty tents durable. We're making durable tents pretty. And there's a very big difference between those two design philosophies in terms of final build quality.
Each heavy duty canopy frame we build—the canopy poles and canopy fittings alike—are crafted from commercial grade steel or aluminum and designed to hold up to the elements. Our canopy tops are made from hefty vinyl, PVC coated polyester, or polyethylene. And most of our tent tops are water, fire, and UV resistant and easily coupled with equal parts effective and attractive canopy sidewalls.
Simply put, our tents will put up a fight against whatever Mother Nature feels like throwing your way. They'll hold up against the wear and tear of frequent or daily commercial use, too. These are canopy tents you can rely on. And that's how most people would define the best canopy tent on the market. It's the tent you never need to worry about. It's the tent you can trust to always get the job done safely, while looking great in the process.
We've Got a Huge Selection of Canopy Tents for Sale!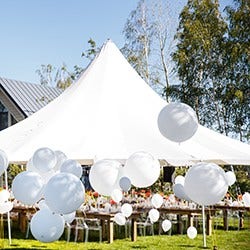 Tent and Table offers a massive selection of canopy tents to suit your every commercial, professional need. From a simple 10x10 pop up canopy tent to our massive multipart high peak frame tents, we're confident you'll find the best canopy tent for sale right here.
Pole tents, frame tents, pop up tents, high peak frame tents, star tents … you name a type of canopy tent you'd find at parties or events, and our website surely carries it. And we also offer a wide assortment of tent components as well, including canopy parts, canopy tops without frames, and tent sidewalls.
Whether you're a professional rental company looking for the perfect wedding canopy tent for season after season of bookings, or a backyard barbeque grill master looking to provide your guests shade while you show them your burger prep skills, the canopy tent selection at Tent and Table is going to leave you feeling satisfied.